Donate your extra breastmilk at an upcoming Milk Drive:
WORLD PREMATURITY DAY on November 17: Frisco
Follow us on Instagram @texasmilkbank and Facebook @mothermilkbank for updates! 
See details below and complete the form to attend to the right:
---
Thursday, November 17
Baylor Scott & White Medical Center - Centennial
12505 Lebanon Road
Frisco, Texas 75035
*For milk drop off, pull up to the front circle for assistance. For screenings, free parking is available near the entrance. 
---
What is a Milk Drive?
Much like blood drives, milk drive events are held at North Texas and Arkansas locations throughout the year to provide a convenient and safe drop-off option for donating extra breastmilk. Our goal is to make donating as convenient and easy as possible for approved donors as well as mothers who would like to start or complete the three-step screening process.
How to Become a Donor
Complete an online eligibility form. (right)
Complete a medical history questionnaire. (We can call you in advance for a 15-minute phone interview or you can complete this step at the milk drive.)
Get a free, non-fasting blood test. (This can be done safely by a phlebotomist at the milk drive or scheduled at another time.)
Important Information
You must be approved as a donor before your milk can be processed and dispensed. (If you would like to wait to donate until you are approved, you can schedule a milk pick-up after completing steps 1 & 2 above.)
Milk left at the milk drive cannot be returned.
Questions?
Drop your milk at a milk drive!
Empty your freezer to help fill ours!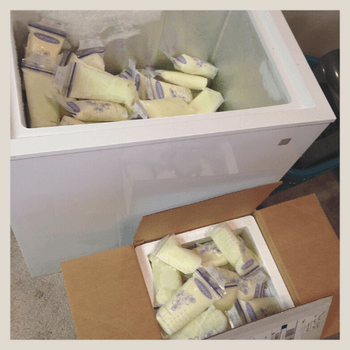 If attending, please complete this form: